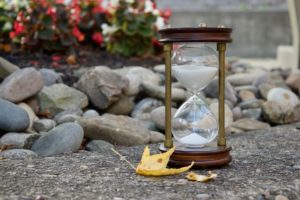 ( 7 min. read)
Happy Wednesday loves! (does orange justice dance! If you don't know what that looks like, click the link here) I have missed you guys and dolls! For the past two weeks, I have dealt with many situations that involved God's timing, so I figured that would be the perfect topic on this foggy, but still beautiful, day. Let's face it, as humans, being on God's timing can be quite an inconvenience. I know the old song says, "he may not come when you want him, but he'll be there right on time." Ummm….true, but that right time is His time, not our right time. That is pretty tough for me, especially because I am a planner. If I am having a hard time financially, and I know that the bills are due on the 15th, I kind of need to know my fate by at least the 5th. Do you agree? I mean, if I am being completely honest, sometimes it seems more like God drags his feet. Maybe not, though. Maybe there is a reason why God does not answer when we ask, and rather answers when He is ready. Which, looking back, happens to always be at the perfect time! In Isaiah 14:24, the Bible says, "…And as I have purposed, so it shall stand." This tells us that God does everything with purpose. You may ask, "but what could possibly be the purpose of God holding out on me, when he knows that I need him desperately?" Good question! Let's dig into the word together…
First and most important, I think God wants you to believe he can do anything. The Bible says, "for with God, nothing is impossible" (Luke 1:37). Point. Blank Period. Do you believe this to be true? If so, you're on the road to your miracle. If not, God will hold out on you until you do. One thing about God, He will show you who is God. Therefore, unless you want to wait 10 years for a blessing that could have been given in 1 month, I suggest you meditate on that verse. It is right there in black and white. It might seem impossible to you, but to Him, anything is possible!
Secondly, I believe that God tries to teach us how to trust Him. So often we come to Him with heavy requests, but we do not have a real relationship with Him. In friendships and relationships with your mate, trust is one of the fundamental requirements to make the relationship last, correct? Well, your relationship with God is the same way. How can you go to Him with emergent requests, when you really do not trust that He will make it happen for you? You pray on Sunday, expecting to get a word by at least Monday evening, and if He takes longer than Wednesday, you are taking matters into your own hands. Do not feel guilty, we all do it. That is why I am here to give you food for thought so that, going forward, you can change the way you relate to God. In doing so, the time you wait for Him to deliver your request will prove to be a necessary period of growth in your relationship with Him. The Bible says, "Blessed is the man who trusts in the Lord, And whose hope is in the Lord. For he shall be like a tree planted by the waters, Which spreads out its roots by the river, And will not fear when heat comes; But its leaf will be green, And will not be anxious in the year of drought, Nor will cease from yielding fruit" (Jeremiah 17:7-8). Think about that. Do you have that kind of trust in God? Church people love to quote the story of Job, but how many times have you been more like his wife? Maybe you did not go so far as to "curse God and die," (Job 2:9) but you have given up on Him, and made your own fate. Okay now, brace yourself for where I am about to go with this because some of you might be rolling your eyes after, but hear me out. Let's say that you need money for your light bill, and at church on Sunday, you prayed for Him to handle it for you. You felt in your spirit that He said, "it's done," so you shouted, thanked Him, and claimed victory. Wednesday comes around, and now you are staring at a disconnect notice, and less than $20 to your name. Do you find the nearest mass, bible study, or church service, and tithe 10 of that 20 to show God that half of everything you have belongs to Him, and that you trust Him? Do you get on the phone, and start asking friends and family for it? Do you take the $20 that you have, and decide to buy a $4 lottery ticket, with the idea that you are believing God for a win? If your answer was no to the first one, and yes to any of the others, that's where you need to start. The word says, "For where your treasure is, there your heart will be also" (Matthew 6:21). Show God that you trust Him with your treasure. The centurions casted lots (i.e gambled) for Jesus' clothes, and mocked Him when He was about to be crucified. Gambling is about statistics, not God. Machines, lotteries, card dealing, etc.. each have to do with probability. There is no odds when you are trusting on God to deliver. He does not shuffle the deck, and whomever's number He pulls is the winner of a blessing today. Instead, He looks at the relationship you have with Him, and how much you believe in Him. Whatever you have, give Him 10%. While you do it, remember that God loves to see you do it in secret. If you go around telling everyone that you gave your last as a tithe or sewed a seed into someone else, the word says, you have no reward from heaven. But when you do a charitable deed, do it in secret; and your Father who sees in secret will Himself reward you openly (see Matthew 6:1-3). Our money is a treasure. We tend to be very protective of it. Will you trust God with your treasure? By doing so, His word just told you that He will see where your heart lies in private, but reward you publicly.
Last, but certainly not least, I believe that God wants to teach us how to rest. I have a family member who always tells me, "Baby if you gonna pray, don't worry, and if you gonna worry, don't pray." I never could understand her seemingly laissez fair approach. How could you not worry when the ship looks like it is about to sink? I have thought to myself many times, "I hear ya maw, but you might want to grab this life vest and recall everything you learned in those emergency tutorials flight attendants give you." Instead, nothing seems to worry her. This made me think of the story of Jesus and His disciples crossing the sea of Galilee. "Now when He got into the boat, His disciples followed Him. And suddenly a great tempest arose on the sea, so that the boat was covered with the waves. But He was asleep. Then His disciples came to Him and awoke Him saying, "Lord! Save us! We are perishing!" But He said to them, " Why are you fearful, O you of little faith?" Then He arose and rebuked the winds and the sea, and there was a great calm" (Matthew 8:23-26). Whew Chile…There are two parts to this story, but I think the Pastors, Priests, Bishops, etc.. have done a great job of stressing the point of having faith to us. Basically, do not be like the disciples in this moment. I pretty much addressed that above. I want to focus on the fact that Jesus was sleeping. SLEEPING folks! There's a full on storm in the sea, and I can picture the disciples falling over as they try to walk, the boat rocking back and forth, darkness and major wind. I mean, pretty much the movie Titanic's climax! In yet, Jesus is napping? Then, when He finally decided to act, in an instant, he calmed the sea. Why are you worried about a financial breakthrough, wayward child, foreclosure, or any other horrible life storm again? "Even the wind and sea obey Him" (verse 27). You are freaking out over something, and God is sleeping. That is exactly what he wants you to do. Yes, faith without works is dead (see James 2), however, the works that God mentions in this chapter, are in reference to a sacrifice. Well, look how that ties in with my second point! Trust him with your sacrifice, and he will see your faith.
Believe that He can and will, trust that He is working on your behalf, then rest. That is all you have to do. Trials will come. "…In the world you will have tribulation; but be of good cheer, I have overcome the world" (Matthew 16:33). Your savior has already done this for you! He is bigger than the circumstances you are facing. When it gets harder, and seems the promise is taking longer, that's when you need to evaluate your relationship with God, and make sure that you are touching these key points. Then, "having done all to stand," stand! (Ephesians 6:13)
Let Me pray for you:
Father, give us the strength to get through life's trials. Your word says that you went before us, in order to save us. Help us to remember that you are God, and can do anything. Remind us that even when we do not see it manifesting, you are working on our behalf. Our job is to trust you. Loose us from the bondage of our feelings. We know that your word says the heart is sick and cannot be trusted. Help us not to give way to our feelings. See our sacrifices, Lord. Honor our requests. We humble ourselves before you, and acknowledge that we are unworthy of your promise. We acknowledge that we cannot do life without you at the center. Come to our aid during difficult times, Lord. We need you. We love you. We trust you. And we will rest in your arms, knowing that you have the ability to change situations as you see fit. You are Jehovah Jirah, our provider, and we will worship you from this day forward. Amen.
xoxo my loves