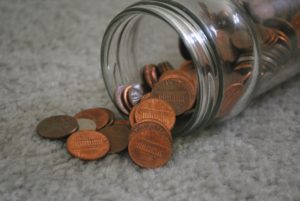 ( 4 min. read)
In high school, each year my school would have what we called "penny wars" in order to raise money for various charities. The object of the penny wars were for each grade level to fill 5-gallon plastic water jugs with pennies. The more jugs, the better! If any checks or dollar bills were put into a jar, that amount would be deducted from each grade level that the jar belonged to. For example, my senior class put a $2000 check into the junior class' jar. This, in turn, deducted 2000 pennies from them. Needless to say, they loss that year!
This always comes to mind when I think about the fight that takes place between two women who want the same man. The women's hearts are the penny jars, and the war over the man determines if deposits are made in the form of coins or checks.
What do you do when you have the title, but there is another woman who has decided that instead of backing off and finding her own man, she is going to battle you for the title from yours? I don't know about you, but I was not about to lose my spot! I went to war. It no longer mattered if I saw her calling, or if he stayed out all night, I was going to be the woman he wanted me to be so that I could add pennies to our relationship jar. My logic was, the more I focused on being who he wanted me to be, the more deposits I would be making. This meant that eventually, he would see there was no need for her.
With every night he stayed out, every condom I would find, and every meal I cooked for us, but ate alone, it was a $2000 check placed in my self-esteem penny jar. We were not arguing anymore, and I had the title, the home, and the kid, but she had the time. Where was the victory in that?
I started praying more than I ever prayed. I should really call it begging because that is what I was really doing. I begged God to change him. Then, when I did not see improvement, I began to fuss at God. How could he allow me to go through this? We were supposed to get married, and have a family. I gave up my dreams for this! Why not just change him, God, and remove her, so that we could have the life we planned.
I will never forget the night I opened my Bible and came across Romans 8:28-30 (which now are my absolute favorite 3 verses btw). It says, "And we know that all things work together for the good of those who love God, to those who are called according to his purpose. For whom He foreknew, He also predestined to be conformed to the image of His Son, that he might be the firstborn among many brethren. Moreover whom He called, these He also justified; and whom he justified, these He also glorified."
I read and meditated on those verses everyday, and with each day that passed, my heart began to heal. God started refilling my penny jar. I eventually got up enough courage to walk away from that relationship, and today, it's been almost 5 years. It was NOT easy, and I have struggled throughout these years with accepting that God has a different plan for my life than the one I had. That part has been, by far, the hardest.
I began to pray more than I did anything else. I fasted, and began reflecting on the direction I wanted to see my life go in. I decided to get back on track with my dream of becoming a nurse, studied hard, and got into nursing school-2000 pennies back! I got a trainer and lost 20 lbs! I would say that deserves about 5000 pennies back! I started reading one self-help book per month and designated an hour on Sundays (outside of church) to pray for someone else–pennies, pennies, pennies! By the time I stepped into 2018, my 5-gallon penny jar was overflowing! I became so emotionally healthy, and protective of my spirit, that all of my relationships had to go through the penny war test. If you are adding pennies, great! You can stay. If you are placing checks or money orders, which equates to negative withdrawals, you, my love are escorted to my block party. You know the party I am talking about, the one where all texts and phone calls get lost somewhere in cellular space!
If you are reading this today, and do not know the power of prayer or you are unsure of the point in having a dialogue with someone you cannot see, allow my story to be a testament of the glory of God's word. I was at war with people who I now include in my every day prayer petitions. I went from fighting another woman, and basically hating her, to praying for her eyes to be opened so that she could realize how many pennies she was deducting from her own jar, while trying to hold onto someone just to say she won. The only winner in a situation like this is the man who gets to benefit from two women giving their all to him, while he doesn't have to give 1/8 of what he should be giving because the women are too busy worrying about outdoing each other.
I thank God daily for the pennies he gave me back. Before, when I would look in the mirror, I saw some genetically modified version of myself. Now, I see the organic me. Thank God for Jesus! When he died on the cross, he said our sins would also be crucified with him (Colossians 2:14). When I couldn't fight anymore, or stand to see this stranger looking back at me in the mirror, I brought my sins to the foot of his cross. And he said, "do not remember the former things, nor consider the things of old. Behold, I will do a new thing. Now it shall spring forth. Shall you know it? I will even make a road in the wilderness, and rivers in the desert" (Isaiah 43: 18-19 NKJV). He will make rivers in the desert! That is exactly what I needed! My heart was parched, and God is the provider of living water. His word says He would do a new thing in me, and He did! I found love and appreciation for myself. I fell in love with the reflection in the mirror.
The reality is, the longer you fight to hold onto a situation that is showing you the clear signs that it is not for you, the deeper the loss. It does not matter if you eventually get what you fought for. When you look in the mirror and do not recognize yourself anymore, all you will feel is defeat. How many checks are you willing to allow into your jar? Is it worth it?
A prayer for you:
Heavenly Father,
Open the heart of the person reading this post. Show them their worth. Protect the jar of their heart. Give them the strength to surrender the fight, and submit themselves to you. I pray for those that are afraid to let go of what is, in order to receive what will be. Change their minds, O Lord. Heal their spirit. Give them the courage to trust you and your timing, so that you can refill their penny jars and do a new thing in their lives. I ask this in your most Holy name. Amen.
xoxo my love