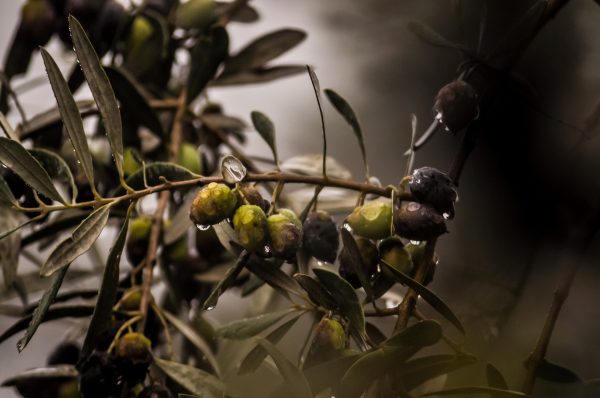 Jesus went out as usual to the Mount of Olives, and his disciples followed him. On reaching the place, he said to them, "Pray that you will not fall into temptation." He withdrew about a stone's throw beyond them, knelt down and prayed, "Father, if you are willing, take this cup from me; yet not my will, but yours be done." An angel from heaven appeared to him and strengthened him. And being in anguish, he prayed more earnestly, and his sweat was like drops of blood falling to the ground."
‭‭Luke‬ ‭22:39-44‬ ‭NIV‬‬
The Mount of Olives was named this because of the olive groves that covered its slopes. In studying the process of growing olive trees and producing olive oil, it is no coincidence that this is where Jesus chose to pray before His betrayal.
Olive trees are said to be "tough." They are usually grown in areas that are unsuitable for much else. On the contrary, they are intolerant of certain conditions. Cold temperatures can damage them. This spoke so deeply to me.
First, as Christians we too should be tough. Yes, Jesus was as meek as a lamb. But He was also as strong as a lion. He was not afraid to live for the Kingdom, even if that meant He was ostracized. Even if that meant being crucified! We are called to be tough enough to withstand storms. To get through obstacles. We don't just crumble because things happen in life. No! We are called to grow in unsuitable conditions. When it's uncomfortable. When God orders Leah, but you asked for Rachel (Genesis 29).
Secondly, how often are we damaged by the cold temperatures of the world? All it takes is a harsh winter season in our lives, and we are forever changed. When Jesus told the disciples who were with Him to pray, less they fall into temptation, I believe He was showing us what to do when temperatures are not ideal—pray. Prayer truly is our super power as believers. It always concerns me when I hear people say "well, all I can do is pray." As if that's a last resort. The first thing you need to do is pray! Prayer changes everything!
Another thing that spoke to me about this text is the way olive oil is made. Olives are crushed with a stone into a paste, stirred slowly, and separated, oil from solids. The oil is then bottled, and the solids discarded. Jesus was in a place of being crushed. He asked God to remove the cup. Instead, God sent angels to strengthen Him. Shortly after, He was handed over to be crucified. God had made Jesus, oil! He didn't change the process. He gave Him strength to get through it! This is why I believe Christians should pray for strength daily. Because God does the same with us. He crushes us, and separates the oil from the solids. He separates who we are and who He created us to be. He separates our shortcomings, and makes us new. When He's finished, we come forth as pure gold. Praise God for His crushing!

As Lent hastens to a close, let us remember what scripture tells us in 2 Corinthians 6:17, "come out from among them and be separate."
Which part will you be—the oil or the solid?
Xoxo