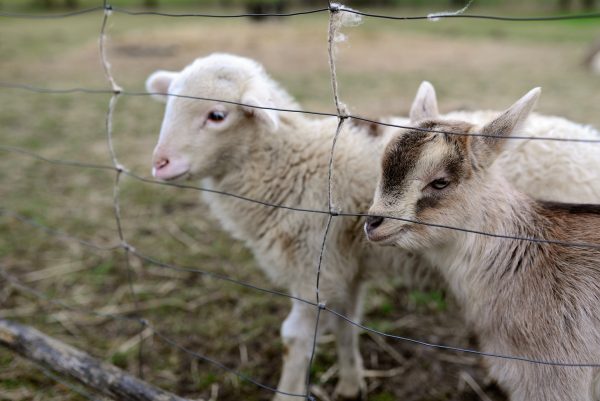 "Then He said, "Take now your son, your only son Isaac, whom you love, and go to the land of Moriah, and offer him there as a burnt offering on one of the mountains of which I shall tell you." So Abraham rose early in the morning and saddled his donkey, and took two of his young men with him, and Isaac his son; and he split the wood for the burnt offering, and arose and went to the place of which God had told him…And Abraham stretched out his hand and took the knife to slay his son. But the Angel of the Lord called to him from heaven and said, "Abraham, Abraham!" So he said, "Here I am." And He said, "Do not lay your hand on the lad, or do anything to him; for now I know that you fear God, since you have not withheld your son, your only son, from Me.""
‭‭Genesis‬ ‭22:2-3, 10-12‬ ‭NKJV‬‬
If you look at a goat and a sheep, one of the major differences in the two are their ears. Jesus said, "my sheep hear my voice, and they follow me" (John 10:27). As God's sheep, we must know when He's speaking, so that we can properly follow.
Our foundational text shows us two very important lessons. Let's explore them together!
Abraham was willing to sacrifice his only son, Isaac, because he knew that it was God who provided him in the first place. Are you that faithful? I think we often breeze pass the verse in Luke 6:38 when Jesus says "give and it shall be given," but consider the logistics of that. Can you receive something if your hands are full? God calls us to live a life of giving. Of service. Of sacrifice. He will provide you with what you need as long as you give to others. Actually, He promises to provide overflow. I don't know about you, but I want my cup overflowing from God! In the words of the prophet Big Sean, "blessings on blessings!" Abraham knew that if God fulfilled His promise once, He'd do it again. He trusted that God would provide, so He was willing to sacrifice Isaac.
As believers, it is paramount that we hear God's voice. Had Abraham not heard the voice of God, he would have murdered Isaac, killing his promise. What promises have you killed because you can't hear God? We have been taught bad theology. We think that if you really want something and the door opens, it's God, but if you meet resistance it's the devil. This is incorrect doctrine! Listen family, every open door is not God, and every closed door is not the devil. There will be times when God orders storms. Will you sleep in them or question Him?
I can almost hear someone saying, "but how? How do I know it's God talking to me." I got you! If you don't spend time with Him devotionally, you will never be able to hear His voice spiritually. It becomes so much easier to know it's God when you know what He would say. This is why daily Bible study is so important. How will you know who to marry if you don't know what God says about marriage? How will you know if it's time to buy a house or move or take a job, if you don't know what God says about seasons. God trains us if we allow Him to. David spent years practicing with his slingshot before it was time to use it. Instead of always focusing and praying to reach there, why not take some time to let God train your ear, here?
Jesus told Abraham "now I know that you fear God because you have not withheld your son, your only son, from me."
What will God say about you? Are you a sheep or a goat?
Xoxo